07.11.2016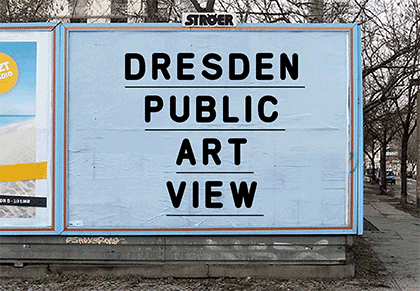 Hier geht es zur deutschen Version
DRESDEN PUBLIC ART VIEW seeks to position artistic approaches outside of existing Art-Institutions in public every day life. 50 artworks of local and international artists will be shown on 50 Billboards all over Dresden City Centre, Germany from 29.7. -7.8.2014.
In the spirit of Klaus Staecks "Die Kunst findet nicht im Saale statt" (art does not take place in the hall) DRESDEN PUBLIC ART VIEW seeks to understand public space as a complex site for art that is accessible for everyone.
Billboards are part of our public everyday life and will be used to critically reflect on social and political contexts and to enable an immediate perception of contemporary artworks. We understand art on Billboards as an intervention in every day life that makes a new mindfulness possible.
dresdenpublicartview.tumblr.com.
DRESDEN PUBLIC ART VIEW is sponsored by
Kulturstiftung des Freistaates Sachsen
Dresdner Stiftung Kunst und Kultur der Ostsächsischen Sparkasse Dresden
Landeshauptstadt Dresden / Amt für Kultur und Denkmalschutz
Wildsmile Studios
Deutschland & friend's e.V.
Ströer GmbH